Your life-changing summer
starts with a simple
summer camp application
Step 1-Online application
Decide which program you want to apply to.
Complete the online application.
Submit a tuition deposit to reserve your place in the program.
Step 2-Registration forms
Log back into your Student Portal to complete the registration forms. Enrollment will not be complete until we have these forms on file.
Workshop + elective selection form—choose classes so we can design your perfect schedule. The workshop + elective selection form is only needed if you are attending an EXPLO 360° program.
Teacher recommendation— this online form only takes a few minutes for a teacher to complete and helps us get to know you. Teacher recommendations are needed only if you are new to EXPLO or applying for a scholarship.
Personal essay—we'll send you a prompt specific to your program and want to hear why you love your chosen topic. The personal essay is needed only for if you are attending a career concentration or focus program.
English language interview—English is the working language of EXPLO. Students who do not attend an English language-based school may need to complete a video interview with EXPLO.
Bright kids + teens belong here
Applying for financial aid
We're committed to providing grants and scholarships to as many qualified applicants as possible. If cost is a barrier for your family, please indicate your interest in receiving financial aid as part of your online application (Step 1).
Ask us anything—we're curious too!
At EXPLO, we love challenges—but the summer camp application process shouldn't be one of them. That's why our admission staff is here, eager to guide you through the process and answer any questions you have. And we do mean any, from scheduling and financial aid info to what's on the menu in the dining halls. Find the counselor for your geographic region below (or contact any of us—we'll make sure you're in good hands!).
United Kingdom + France
International Students (except UK + France)
California, Pacific NW, Western U.S. + Midwest
NY, NJ, DC Metro Area + Southeast
New England, FL + TX
General Questions
Visit or engage with EXPLO
There's always more to learn! Come see us in person, or connect online.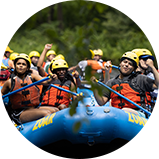 EXPLO sets the bar, and no one has met it yet. We have always been impressed with the quality of staff and faculty, the huge breadth of courses and activities, the care with which every staff member approaches students and parents, the quality and variety of evening programming, the weekend trips, and the classy way in which you do everything. I wish I had more words to rave about what you do!