WORKING AT EXPLO Look at the world through big ideas
Imagine a program where the traditional concept of learning is turned on its head — where experiments take the place of lectures, and where failure is just another word for trying. EXPLO is a place where you'll spend your days surrounded by people who will inspire and challenge your worldview. Our programs will most definitely expand your notion of what learning is — and how much fun it's supposed to be.
We know you'll transform the lives of our students. We hope the experience will transform yours, too.
2023 Employment Dates
June 18, 2023 – August 6, 2023
Application Deadline: Rolling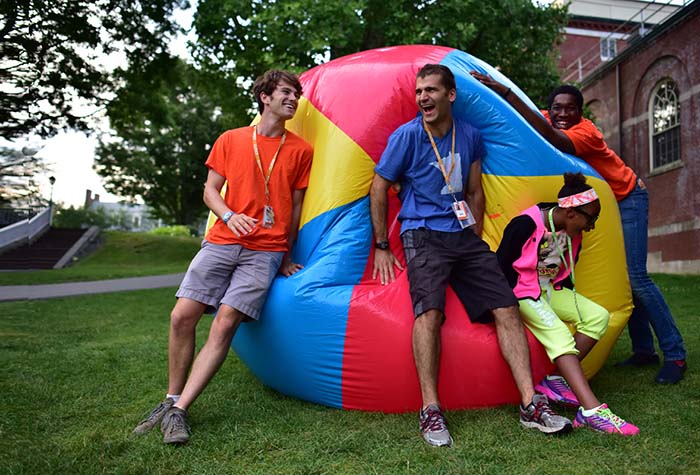 WHAT TO EXPECT What can you expect from a summer position at EXPLO?
More than you might think. Here are some things you can anticipate:
Professional Development
Unlike some summer jobs and internships (that aren't much more than photocopying and errand-running), you'll have real responsibilities at EXPLO. Your students and your peers alike will rely on you, and we're confident you'll have their backs. We also provide a fantastic environment for professional growth for all of our staff. Our administration will meet with you regularly during the summer to give you feedback, help you assess your performance, set goals, and improve your organizational and interpersonal skills.
Competitive Compensation (Room + Board Included)
With salaries ranging from $3,800 to more than $5,000 for seven weeks of service, our summer positions are generously compensated. Additionally, all meals and living arrangements are paid for.
So. Much. Fun.
Working at EXPLO is a blast. The EXPLO faculty is a group that will inspire you to do more and better work than you ever thought imaginable. Your hundred or so colleagues will also become some of your closest friends — not only for the seven weeks of the program, but afterward as well. It's not an easy job, but it will likely become your favorite job. And, of course, it helps that our students are hysterical and bright, enthralled with the joy of learning.
Academics, Activities, + Events
At EXPLO, each day is jam-packed with activity – for students and staff. Three parts make up most weekdays at each of our three EXPLO programs: academics, activities, and evening events. Students attend faculty-led courses and electives from a full spectrum of academic disciplines that dish out moments of discovery day in and day out.
In the afternoon and early evening, faculty-led activities range from artistic (finger painting), to athletic (ultimate Frisbee), to out-of-the-ordinary (sushi making), to just plain silly (lumberjack competitions).
Evening events can be performances by professional entertainers, staff-organized themed events, or trips to off-campus venues.
Weekend Programming
Weekend schedules at EXPLO are a little bit different. On the weekends, our faculty chaperone students on day-long trips to museums, beaches, amusement parks, theater performances, and more. When trips return in the late afternoon, our faculty lead evening activities and help coordinate special weekend events.
FACULTY GUIDELINES Professional Guidelines
As you consider working for EXPLO this summer, please review the following professional guidelines:
Health + Well-Being
The health and safety of all our students and faculty is our highest priority. No matter what position you occupy, it will be your responsibility to help make EXPLO an environment in which students can learn and grow in a way appropriate for their age. Classes, activities, residential floors, and trips all need to make students feel physically, emotionally, and intellectually safe, even when being challenged. Enforcement of program guidelines concerning student conduct is essential to this objective.
Substance-Free Workplace
The use of drugs or alcohol at EXPLO is strictly prohibited. Because each faculty member is responsible for the safety and wellbeing of our students, we feel it's necessary to mandate a high standard for faculty concerning the use of drugs and alcohol. At no time should any faculty member on- or off-duty be under the influence of illegal or other non-medicinal drugs, or possess them on-campus. At no time should any faculty member be under the influence of alcohol on-duty or return to the dorm complex while under the influence after being off-duty. Consumption of alcohol by off-duty faculty over the age of 21 is restricted to off-campus locations only.
Safety + Inclusion
Harassment of any kind will not be tolerated at EXPLO. We take issues of sexual, racial, ethnic, religious, and physical harassment very seriously. EXPLO strictly prohibits its managers, supervisors, and employees from harassing any member of its faculty or student body.
Professionalism + Commitment
We take the commitment you're making when you apply for a position seriously. Once you've accepted a position, EXPLO will incur obligations and make commitments to participants based on your being available at the program. Any sudden cancellation of your involvement could severely damage the program's quality and cause irreparable economic loss to EXPLO. Please only apply for a position if you are prepared to make an irrevocable commitment to work for EXPLO for the entire duration of the summer program. If you plan to look for full-time employment after the summer is over, it is possible that a potential employer may wish you to start during the summer. If this would prevent you from fulfilling the entirety of your responsibilities to EXPLO, you should not consider applying for a position at EXPLO at this time.
FAQYou Have Questions — We've Got Answers
How will I be contacted regarding my application?
All correspondence regarding your application is sent via email. It is important that you regularly check your inbox (and spam folder) for important updates. Untimely communication on your part could result in your application being rejected.
Are all staff members required to work the full 7 weeks, or is it possible to work for just one session?
Staff members are required to work the full seven weeks of the EXPLO summer. (This includes one week of staff orientation, and two 3-week sessions with our students.) The only exception are Lead Instructor roles at the Pre-College Program where there are some 3-week positions.
Who should I ask to be a reference?
We ask that you submit professional references — such as teachers, professors, job or volunteer supervisors — who can speak to your potential to thrive as an EXPLO staff member. If you've had limited work experience, we will also accept references from mentors, advisors, or religious leaders. Examples of references we would not accept include personal references such as parents, friends, or peers.
Why was I asked to interview for my second- or third-choice program?
In the initial application, you will indicate which program(s) you are most interested in working with. While the Faculty Recruitment Team will note your preferences when reviewing your application, there may not be a position available at your first-choice program that matches your skills and experiences. In that case, you may be asked to interview for your second- or third-choice program. For example, you might indicate that EXPLO at Wheaton (Grades 4–7) is your first-choice program, but you may find yourself being interviewed by your third-choice program if they have a greater need for the positions to which you've applied, or if EXPLO at Wheaton (Grades 4–7) doesn't have any available positions that match your interests and abilities.
How much detail should I include in the qualifications listed on my initial application?
We need enough detail to understand the scope and context of your qualifications; however, we don't need an exhaustive description of any single experience. For example, if you're writing about your qualifications for the AV Coordinator role, you should describe any past AV work experience, including the specific responsibilities you carried out that would prepare you to serve as an EXPLO AV Coordinator. Often, one or two well-written paragraphs will suffice to adequately describe your qualifications for a given position or interest.
Do you sponsor visas for international staff members who are hired to work at EXPLO?
While EXPLO does not directly sponsor visas, there are a couple of options for international staff members to obtain work authorization for summer employment in the United States. International staff members enrolled in a college or university in the United States are strongly encouraged to seek sponsorship through their school by applying for CPT or OPT; this is usually the quickest and most affordable option.
International staff members who are not enrolled in a college or university in the United States will be connected with a partner organization, which guides each staff member through the full J-1 visa application process.
When will I receive a final decision?
Applicants are either accepted, rejected, or placed on a waitlist. An applicant may be rejected or placed on a waitlist at any stage in the application process. If an applicant reaches the interview stage, they will typically receive a final hiring decision within 2–3 weeks after their interview. (Please note that exceptions to this timeline do occur; when this is the case, the Faculty Recruitment Team will inform the applicant of when they can expect to receive a final hiring decision.)
How are EXPLO instructors trained to teach their courses and/or electives?
In the spring, all EXPLO instructors participate in our Preseason Curriculum Coaching process. Each instructor is assigned to a Preseason Curriculum Coach, who guides them to become familiar with EXPLO's teaching style, in addition to the lesson plans specific to their course and/or elective. This provides a wonderful chance to prepare course logistics, become familiar with course content, reflect on teaching style and strategy, and build excitement for a great summer of teaching!
If I am hired to teach a course and/or elective, will I need to write my own curriculum?
For EXPLO Junior (Grades 4–7), EXPLO Senior (Grades 8–10), and the 360 Program at EXPLO Pre-College:
All of our courses and electives are professionally written by full-time EXPLO staff members. If you are hired to teach a course and/or elective, we will provide you with a complete set of lesson plans, outlining the activities for the course/elective, materials needed for each activity, etc. You will have a chance to familiarize yourself with the lesson plans—and even make some adaptations, in consultation with a curriculum coach—during our Preseason Curriculum Coaching process in the spring.
For the Career Concentrations Program at EXPLO Pre-College (Grades 10–12):
The nature of our concentration programs necessitates that our curriculum is developed and delivered by professionals with expertise in their field. If you are hired as a lead instructor, you will be provided with curricular content such as a program description, project frameworks, or even a partial or complete set of the existing curriculum. You'll work in consultation with our year-round Curriculum development team and/or other Lead Instructors on further developing the curriculum preparation for the start of the program.