Experience EXPLO 24/7
For two weeks on the rolling, green campus of Sarah Lawrence College, you won't miss a thing, from sunup to lights-out. You'll build friendships with your roommate and the rest of the kids in your living group. And you'll always have your friendly EXPLO resident advisors there at all times to help out or just hang out.
First-timers can rest easy
Our overnight experience is as smooth and stress-free as possible, with the best staff-student ratio of any campus-based summer program. We have almost 50 years of experience to tap into each summer. We have a robust overnight student experience and ensure students are well cared for and supervised, with a 24/7 health center and Student Life staff who actively connect with every student to ensure their wellbeing.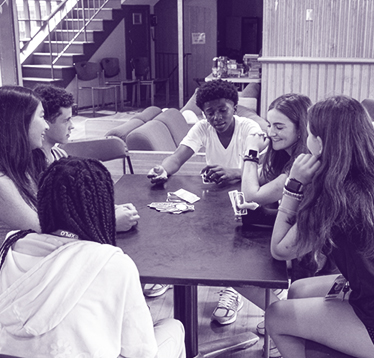 This has been a wonderful opportunity for [my son] to experience living away from home. He has learned about other people's lives and, most importantly, he has been able to work on cooperating and compromising with others.
Why overnight?
There's as much to learn from having a roommate as there is from any academic class. We help students reach their full potential through exploration, experimentation, collaboration, and trying new things. That kind of transformation doesn't just happen in the classroom. It can happen on the playing field, in the dorm, at meals, and just hanging out on the quad--and our staff members are there every step of the way.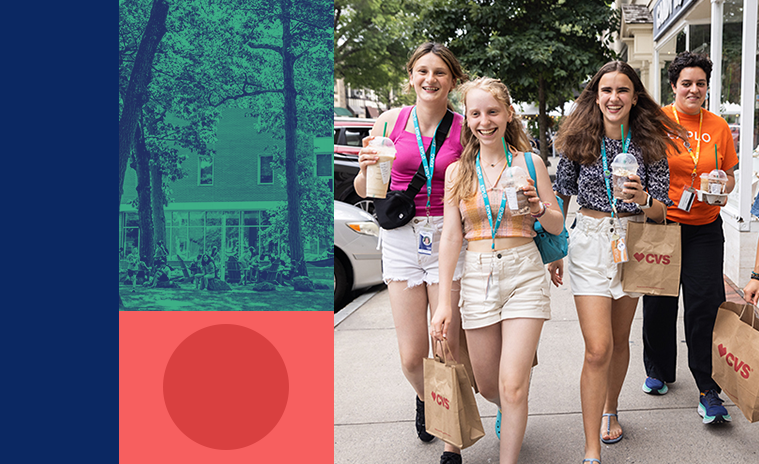 (Over)night life at EXPLO
While you'll immerse yourself in hands-on workshops geared toward the medical profession, that's just the tip of the EXPLO iceberg. Living and having fun with other teens, all exploring different things, allows constant opportunities for discovery and surprise.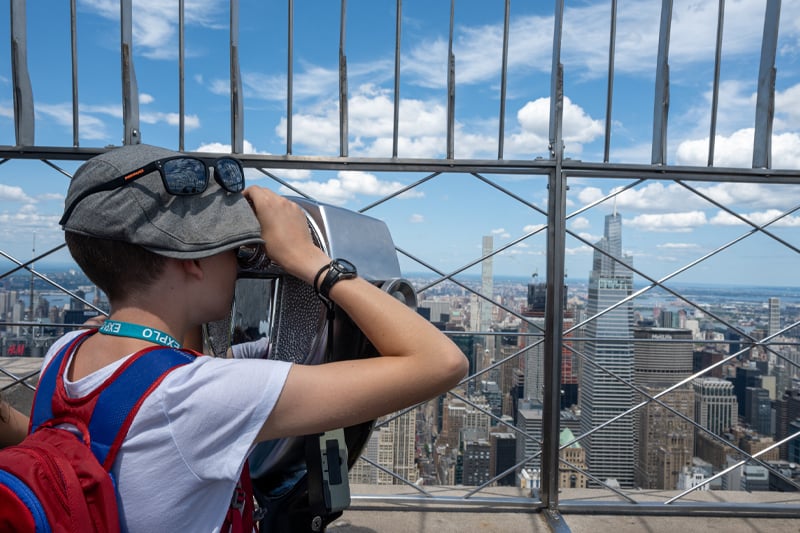 There's no such thing as a "typical" EXPLO day
Every day, you'll join EXPLO 360° students in tons of traditional summer activities (think swimming, games, art, and movies) as well as customized EXPLO experiences like Carnival Night, Colorfest, and Explosé. And on the weekend, you'll choose from adventures like trips to Manhattan museums, a day at the beach, or a bike ride along the Hudson River.
The more you know
Here are more details on program logistics. We're standing by to answer any more questions, though: don't hesitate to contact us by calling 781-762-7400 or emailing us at intermediate@explo.org.
Airport
We know that one of the big concerns about traveling far from home is transportation. Our staff—easily identifiable in their bright orange EXPLO t-shirts—meet students at the airport, escort them to campus, and help them settle in. On Arrival Day, staff members remain at the airport until we know that the last student has been picked up.
When it's time to return home at the end of the session, we take students back to the airport—and stay there until we're sure everyone is safe and in the air.
The cost for airport transportation is $100 each way, and if a student is flying as an unaccompanied minor, there is an additional charge of $50 each way.
Car
Families may arrive between 1:00 PM and 4:00 PM on the first day of their session. On departure day, students will be packed and ready to greet their families between 9:00 AM and 12:00 PM. EXPLO signs will direct you through to registration
While most students will be housed in double rooms with traditional multi-stall hall bathrooms, there are also Jack-and-Jill style rooms that share a bathroom between two single bedrooms. We encourage families to work with their Admission Counselor to discuss housing for their child. Each student is part of a living group. There are two residential advisors per living group and the group is comprised of students from a diverse array of backgrounds. Living groups are determined based on student grade and gender identity, with an option for mixed-grade gender-inclusive housing should space be available.
Each living group is also supervised by two residential directors who work closely with the deans and assistant deans in the Office of Student Life. The Office of Student Life is focused on ensuring each student feels a sense of belonging at the program and is thriving. Since most students have never lived in a residence hall and most have never had a roommate, members of the Office of Student Life guide and advise students through this new experience.
Most students are assigned a roommate they do not know—a wonderful opportunity to get to know someone new. We recommend that if friends come to the program that they do not live with one another, but they can instead request to be in the same living group. That said, students may choose specific roommates as long as both students are in the same grade, same gender, and they request one another.
Residential student mobile phones will be collected and stored in a secure space on campus until the final Wednesday of the session; students may not keep their phones with them.
Students are not allowed to make or receive calls during the first week of the Program.
Students may begin calling home the second Monday of each session from a shared phone on the floor; Chromebooks on each hall, along with computer labs, will be available for emails and/or internet-based calls.
Phone messages will be delivered during floor time; only messages will be taken (students will not be called to the phone). Caregivers, etc., should make arrangements to return calls from an on-campus phone during appropriate hours.
Families can always call the Main Office and connect with the Office of Student Life for an update about how their child is doing - from the start of the program until the end.
Laptops are allowed for some students. Please connect with your Admissions Counselor to find out more.
In order to establish a support system with the other members of the EXPLO community, students may not make or receive calls during the first week of the program. Students may call home beginning the second Monday of each session from a shared phone on their floor.
Families can always call the Main Office and connect with the Office of Student Life for an update on their child or to leave a message.
From day one, families may send emails to students using the student messaging service on the Student Portal. Students will not have access to their personal email accounts.
Students may send and receive snail mail and should bring stamps with them to the program. Most families go through the session without sending packages, however you are welcome to send packages to students.
Students at EXPLO Intermediate do their own laundry with washers and dryers in the residence halls. Because many students have never done their laundry prior to EXPLO, residential advisors walk students through the process, and are happy to offer assistance throughout the session.