Put your passion into action while exploring careers

EXPLO Pre-College Career Concentrations put you in the driver's seat to a future you can be excited about. Select one area of focus you want to make a real impact in and get ready for full professional immersion. You'll get a look behind the scenes to see how professions work right now, and where they might be headed in the future, when you're exploring careers.
College- and career-ready
Collaborate with industry experts and top faculty from diverse institutions.
Tackle current industry challenges and build a portfolio of work.
Gain real experience you can highlight in college essays and interviews.
Start building your future professional and social networks.
Qualify to earn college credit.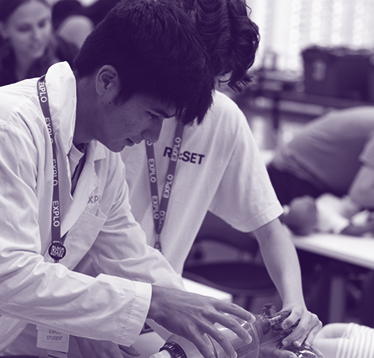 It was hands-on, no book stuff, just doing all the time. The staff trusted us with all the equipment, and they understood that we wanted to experience, and they gladly stepped back for us to discover on our own.
Try on possible futures
As you're exploring careers, you'll have a personal relationship with a dedicated industry professional to guide you through your experiences and discoveries. They'll provide real-time mentoring and feedback as you blaze your own trail to your future.
Don't forget the fun
Just because you're diving deep into an area you're passionate about doesn't mean you'll sacrifice your summer—in fact, you'll take it to the next level. With everything from Boston foodie tours to cruises, movie nights, and evening musical performances, you'll have time to unwind and connect with other creative and inclusive students.