Spark new passions before choosing a major
EXPLO's creative set of workshops and electives will help you explore opportunities that you didn't even know were possible. From Law + Social Movements to International Relations and more, your experiences will help you find focus, unleashing your true passions to reveal your path forward.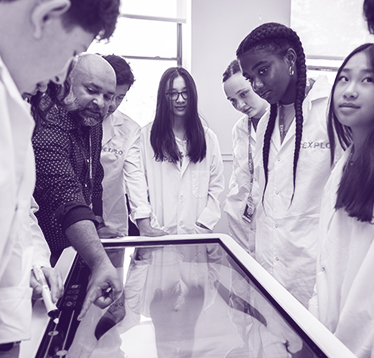 In school we're just, like, reading from a textbook, while here at Explo we're decrypting codes and electrocuting pickles.
How to build your summer experience
Workshops explore topics in a variety of subjects that let you pursue different strengths and interests. Electives are more focused and skills-based. (A workshop may cover game design; an elective exclusively covers chess or Settlers of Catan.) Combine any two workshops and three electives to create your ideal schedule.
Business, Math + Economics
Engineering, Technology + Design
Law, Humanities + World Affairs
Science, Psychology + Medicine
Visual, Performing + Culinary Arts
Athletics, Hobbies + Recreation
Design your perfect summer.
Get support along the way.