Make every day an Ultimate Day
Looking for a day camp with all the activities and community of an overnight camp? Or a summer learning program that lets you decide when your day begins and ends? That's the Ultimate Day program. You can participate in all the same experiences together with residential students (including evening activities and weekend trips) with the option to arrive early or stay late.
Create the schedule you want, even if it's different every day
Flexibility is key to the Ultimate Day program. Three late evenings per session are included in your Ultimate Day tuition, because we want you to experience some awesome evening events even if you're not spending the night here. Breakfast, additional dinners, and weekend trips have a small fee that's part of your trips and sundries account.



Pick your summer learning program schedule

Select from 8 to 13 hours of EXPLO fun each day—with trips available each weekend to places like the Empire State Building, a Yankees game, the Museum of Natural History, and way more. Day camps in New York have never had this much flexibility.

Start your EXPLO day
7:30 AM OR 8:30 AM
End your EXPLO day
4:30 PM OR 8:45 PM
Now, fill your days with discovery
What interests you most?
Choose two workshops + three electives
Workshops are collaborative, hands-on experiences that explore topics in a variety of subjects, letting you pursue different interests. Electives are more focused and skills-based. (A workshop may cover game design; an elective exclusively covers chess or Settlers of Catan.)
The possibilities are endless
Combine any two workshops and any three electives to create your own personal summer learning program. There are dozens of choices and thousands of possible combinations.
Exploring Entrepreneurship / Forensic Science / Flag Football / Graffiti Art / Cartooning + Comics

Acting for the Stage / International Law + Diplomacy / Hip-Hop Dance / Video Editing / Intro to Dungeons + Dragons

Video Game Level Design / Chemistry in Action / Painting / Basketball / 3D Computer Modeling
You get to make a lot of choices at EXPLO. You get to choose all of your classes, and during the day you can pick from like 10-12 activities. I try to pick things that are new to me, because otherwise I'd just be learning a lot of the same things.
It's three weeks of the good life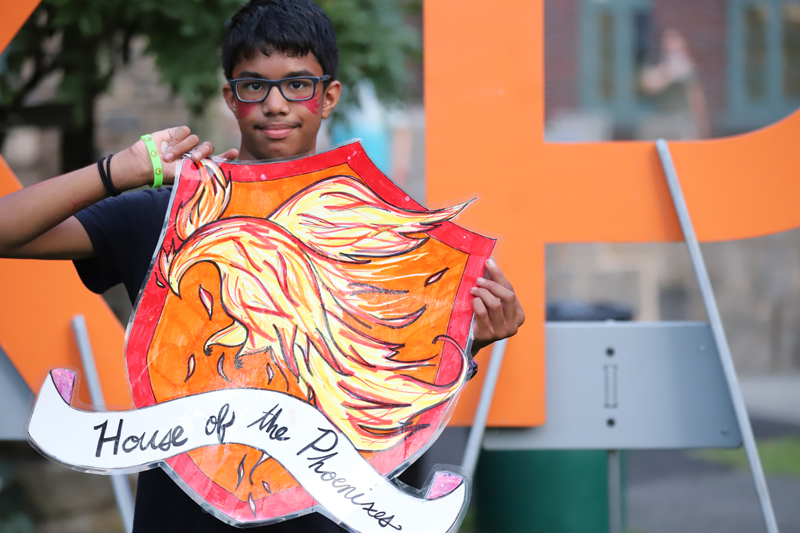 EXPLO student life is something special
Each day in the Ultimate Day program is yours to create. You'll fill them with workshops and electives, but you can also choose evening events like pickup basketball or painting in the art studio. Or fill the weekend days with trips to amusement parks or museums. It's as much as you want, when you want, in this standout program among day camps in New York.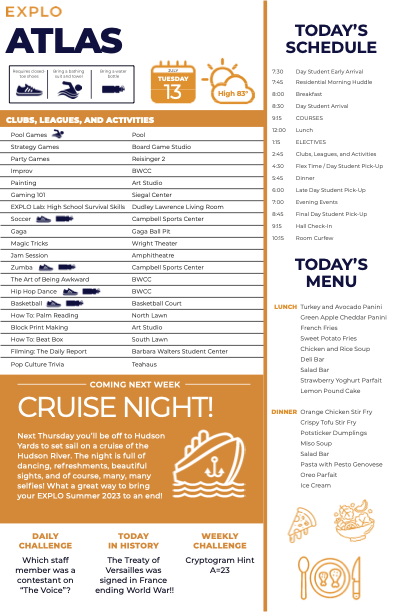 Explore a sample day
We want to share more of what makes us special, because when you spend extra time with the EXPLO community, friendships grow stronger and more learning happens. Three late evenings per session are included in your Ultimate Day tuition. Breakfast, additional evenings, and weekend trips have a small fee that's part of your trips and sundries account.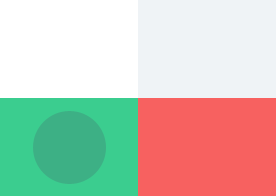 Ready for more? Stay overnight.
You may find that the more time you spend at EXPLO, the less you want to leave. So don't! Our overnight program is an inclusive, supportive home away from home for both first-time and veteran overnight campers.