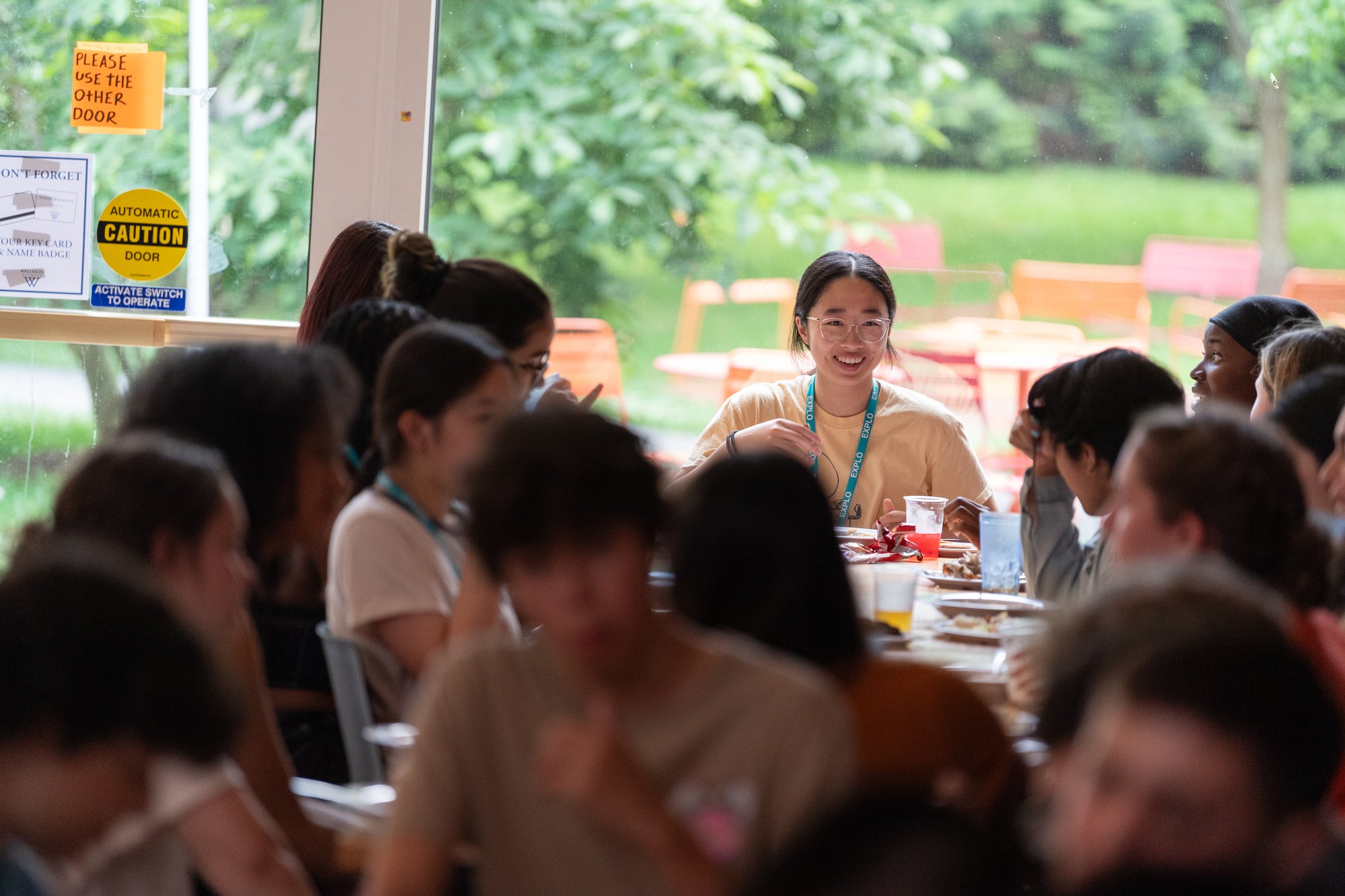 Either 24/7…
Get a feel for college life in the EXPLO Pre-College residential program. For three weeks you will live on campus like a college student. That means forging friendships with your roommate and classmates, exploring new ideas and skills in interactive workshops, managing options in your schedule, and (of course!) having a blast trying new things.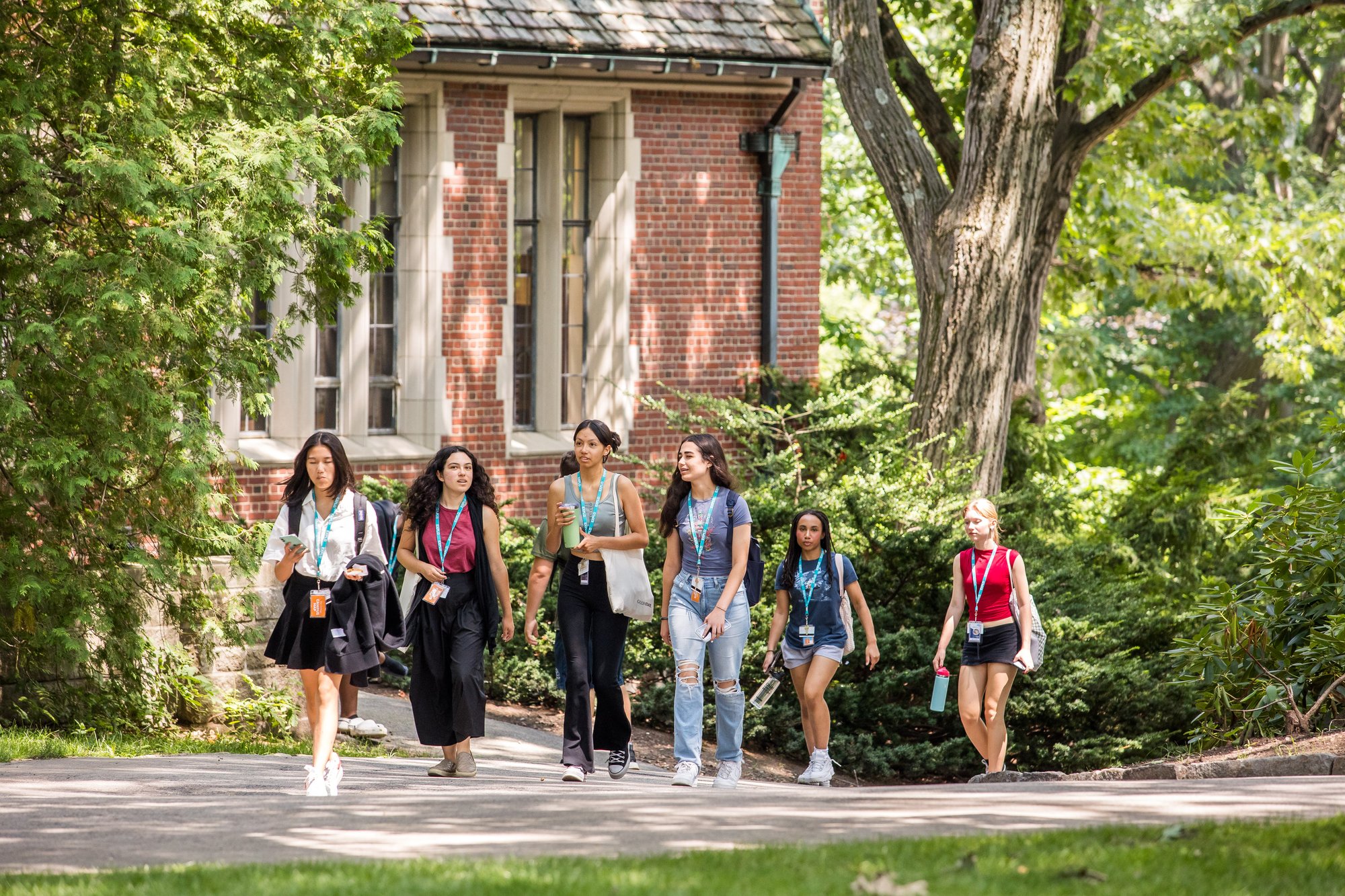 …or as a commuter
Plenty of college students live off-campus, just like our Pre-College commuter option. Once you're on campus, you're in the thick of it, just like residential students—immersing yourself in challenging, real-world topics, meeting talented new friends, and joining in clubs, trips, and activities. There's no summer program for teenagers quite like it.
I loved the atmosphere. Because everyone really wanted to be there, smiles were contagious. I think I learned almost as much in my classes as I did from my friends. I made friends that lived all over the world, and I'm usually really shy at home!
Dive into your day
Residential or commuter, your EXPLO days will go like this:
Weekdays
Weekends
Weekdays
7:00 – Sunrise electives (optional)
8:00 –

Breakfast

9:00 – Workshop 1 / Concentration
11:00 – Workshop 2 / Concentration
12:30 – Lunch
2:00 – Electives / Concentration
3:30 – Open Time
6:00 –

Dinner

7:15 –

Community Meeting

7:30 –

Evening Events

10:30 – Check-in on the hall


Orange = optional for commuters
Weekends
8:00 –

Breakfast

10:00 –

Trip Departures

5:30 –

Dinner

7:00 –

Community Meeting

7:15 –

Evening Programming

11:00 – Check-in on the hall
Orange = optional for commuters
Unedited Fun
In the evening, take in a movie under the stars, or toast some s'mores at a bonfire. Hit the gym with the Workout Club, or fire up the Nintendo for some friendly competition. On weekends, go on adventures like foodie tours in Boston, kayaking on the Charles River, a cruise in Boston Harbor, or a ball game at Fenway Park. For commuters, three evenings are included in tuition, and you can join our weekend trips too for a small fee.
24/7 EXPLO
Dorm Life
For many college students, their first day they live on campus is their first experience with a roommate. Not for you though, because at EXPLO you'll be paired with another student who's just as talented and curious as you are. And you'll have live-in resident assistants and directors to support you both in sharing your space and building a new friendship.
Your day, your way
We deliberately design the Pre-College residential experience to let you decide how to fill big parts of your day, from socializing to participating in structured activities, from academics to touching base with home (and, yes, sometimes even doing laundry!).
With a little backup
But we know you're not in college quite yet—that's why our Student Life staff will check in with you regularly to connect and offer support with anything you need. This is how we create an environment where you'll feel known, welcome, and confident enough to push your boundaries and try new things.
Commute with no compromise
If you're commuting to EXPLO, your day will look a lot like residential students'—same immersive workshops and concentrations, same access to facilities and activities, same great faculty and new friends. You can even spend three late evenings of your choice on campus, with dinner and evening activities, included in your tuition. Join us for breakfast or dinner on other days, or on weekends for off-campus trips, using funds from your trips and sundries account.
The more you know
Here are more details on program logistics for one of the best summer programs for teenagers. We're standing by to answer any more questions, though: don't hesitate to contact us by calling 781-762-7400 or emailing us at precollege@explo.org.
Residential Students
While many families choose to drive their students to campus, we know that one of the big concerns for families traveling so far from home is transportation. Our staff—easily identifiable in their bright orange EXPLO t-shirts—will meet you at the airport, escort you to campus, and help you settle in. On Arrival Day, staff members remain at the airport until we know that the last student has been picked up.
When it's time to return home at the end of the session, we'll take you back to the airport—and stay there until we're sure everyone is safe and in the air.
Commuter Students
The standard day for commuter students is 8:15 AM to 4:15 PM. Included in your commuter tuition are three evenings of your choice per session, when you can stay on campus until 8:45 PM to participate in evening activities. On any given day, you can choose to come early for breakfast or stay late for dinner on campus as well.
Join us for Saturday and/or Sunday trips—there are more than 10 a day to choose from. The costs for extra meals and weekend trips will be deducted from your trips and sundries account.
English is the working language of EXPLO. To enroll in the program, you must be able to speak and understand English at an intermediate–fluent level. To ensure that everyone is able to participate in all aspects of the program, international students who do not attend a school with an English language-based curriculum may need to interview with EXPLO so that we may assess their English speaking abilities. Once you've submitted an application and deposit, we'll contact you and your family about scheduling an interview, should we determine that one is necessary.
Home to outstanding academic and recreational facilities, extraordinary architecture, an art museum, observatory, meadows, and woodlands, Wellesley College is the perfect setting for EXPLO's Pre-College program. The picturesque location is only enhanced by the College's belief in the transformative power of curiosity, learning, and teaching — a belief we share at EXPLO. The campus is a short walk from Wellesley Square, a lively downtown area teeming with restaurants, shops, and cafes. Just a few miles away are Boston and Cambridge, home to world-class colleges and universities that create an educational ecosystem that is known the world over as a global innovation hub.
Our students' physical and emotional health is a top priority. On the Wellesley College campus, we have a health center staffed 24/7 with experienced nurses who are there exclusively for EXPLO students. All prescription and over-the-counter medications are distributed through the health center because state law—and common sense—dictates that students should not self-medicate or keep medications in their rooms.
Attending an academic enrichment program helps students prepare for the greater independence of college. That being said, EXPLO does not believe that our students should be supervised as if they are already completely independent; we work hard to ensure our students receive a developmentally appropriate and safe level of supervision and guidance throughout their days. In order to create the atmosphere that allows learning to be both fun and meaningful, we know that our students (and their loved ones back home) need to feel that our campus is safe—and that our staff is observant and trained to respond to our students' needs.
Students are responsible for doing their own laundry. Laundry facilities are available in the residential buildings for use during free time. Pod-style laundry detergent is available at EXPLO's Main Office.
The charge for each load of laundry is $1.50, paid using a free smartphone app—no cash or change is used in the machines.